A.I. WARS CAICL EDITOR PRO

Enhanced CYBUG/TANK Editor

---
DOWNLOADS

---
SCREEN SHOT

---
FEATURE LIST
MDI Interface.
Real time colorized code
Code color and font options
Associate feature anllows you to associate .AI files with CAICLPro.EXE
Line Numbering so you can quickly navigate to the section of code you are working on.


---
Click here to order and download a full version of A.I. Wars online TODAY!


Fortress of Flags


GameBoy Advance


Atari Adventure Stidio Retired Games One-Switch Home Arcade Articles
A.I. Wars
Featured 9/98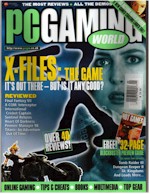 A.I. Wars
Awarded