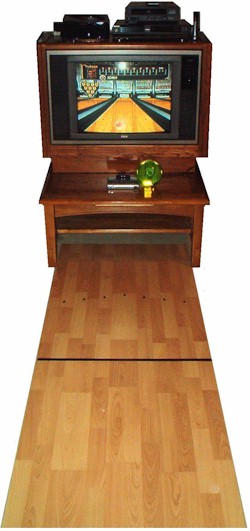 This is a simple attempt to duplicate the thrill of Bowling in my own home. This project requires no woodworking skills and tools. It is a simple extension to a off-the-shelf video game console.
Design
System CPU Strategy:
Approach: Use a XAVIXPort with a copy of XAVIX Bowling. This kit comes with its own Bowling Ball and motion sensor array. The game allows you to simulate the movement of a full bowling swing. The movements are read and translated into the ball on the screen. This game supports up to 4 players in a single game and 8 players in a tournament. The game also has several arcade like bowling games that simulate moving targets and a tetris like game.
Bowling Platform:
This is a simple setup using a older model color console TV along with a coffee table and some wood laminate flooring. The lines and arrows on the bowling lane consist of simple strips of black electrical tape. The floor allows you to line your shots up. The game can be played without this component but my scores have gone from the 140's to the 200's with this floor in place.
| | |
| --- | --- |
| Item | Projected |
| XavixPort | $79.00 |
| Xavix Bowling cartridge w/ball | $49.00 |
| Older model Color Console TV | $150.00 |
| Table | $60.00 |
| Laminate Flooring (1 Box approx 19 Sq feet) | $43.00 |