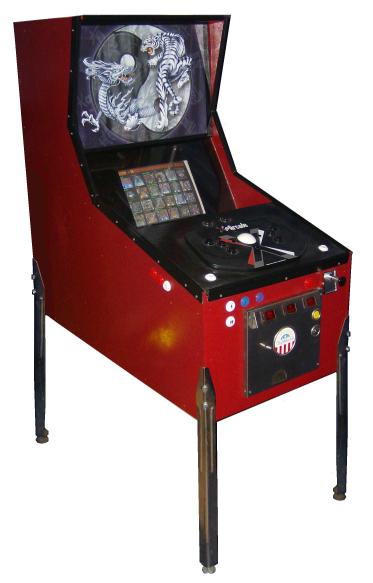 This is my attempt at duplicate the experience of playing pinball at home.
Pinball Machine
Electronics:
Approach: Use a 800Mhz PC running Win98 (configured to hide the boot and shutdown screens using TweakUI). For the buttons I used a KeyWiz Eco2 encoder (solderless) board.
Software:
This uses Visual Pinball. I'm choosing to just run tables that do not require PinMame so I don't have to worry about ROM's and their associated licensing issues. I have it emulating 498 Tables so far. The machine boots to a menu of tables where you use the flipper buttons to navigate through it. You select the tables with the ball plunger button.
Hardware Cost:
Cost for entire cabinet excluding the PC, coin door and trackball is approx $140. I switched from MDF to lighter weight plywood (actually slightly more expensive than MDF). I ordered the buttons from the same place I purchased the KeyWiz Eco2 encoder to save on shipping. I ordered the legs off of eBay for $8 but you can easily find new ones from pinball suppliers for a good price. I purchased the coin door from ebay for $9 and the X-arcade Trackball for $49.
Design:
Here are my design drawings. I typically do all of my design and concept drawings in Paintbrush. One day I may switch to a CAD program but so far Paintbrush works fine for me. (I also write/program video games using Notepad but that's another story.) I eliminated the need for a Trackball by tweaking the VPLauncher software.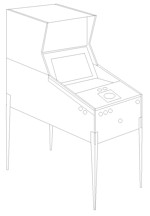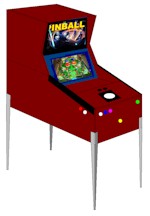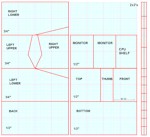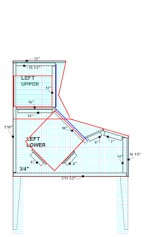 Latest Machine Photographs:




This is what I have finished building so far. For the marquee I decided to purchase a poster with a Dragon and Tiger circling a yen-yang symbol. The dragon is holding a large silver ball (Perfect! - purchased from wal-mart $3.99). I put a string of colored blinking Christmas lights behind it to add some sparkle.

Updated Modifications
I decided to paint the top plate black and replace the marble texture around the screen with a textured black. To top it off, I added an extra pair of flipper buttons on the top to smaller children and table nudge buttons for up/down to go with the side to side ones and the crown jewel... a ball plunger! this works fine with a simple normally closed switch solidly planted into a 2x4 within the cabinet.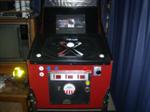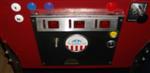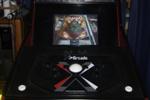 Older Version